Regions
The Republic of Bulgaria is a state in South-Eastern Europe situated in the eastern part of the Balkan Peninsula. To the north, Bulgaria borders on Romania, to the east, on the Black Sea, to the south, on Turkey and Greece, to the west, on Bulgaria Mapthe Federal Republic of Yugoslavia and the Republic of Macedonia.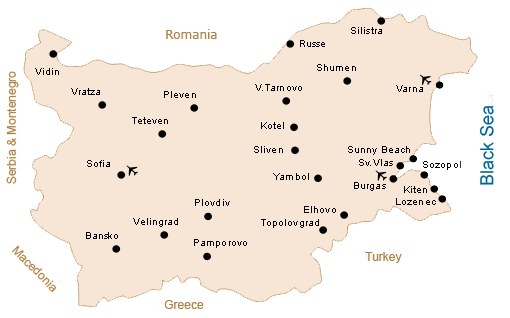 Bulgaria has become a country of international tourism. Already, in ancient times, the Romans were attracted by the healing qualities of the Bulgarian mineral springs and its beautiful nature. The rise of tourism started at the end of the 19th century with the first tourist clubs. At the beginning of the 20th century the first mountain hostel was opened. At that time the first spas also started functioning. Foreign tourists began visiting Bulgaria because in spite of its small territory, the country has such a diversity of attractions and a harmonic combination of geographic and climatic conditions - beautiful coastline with golden sands, luscious vegetation, picturesque river valleys and gorges, many caves, and mineral springs various in their temperature and composition. The protected natural reservations are rich in rare plants, animals and rock formations. The traces of the past can be seen everywhere - archaeological, architectural, historical and ethnographic remains.
After 1950 Bulgaria undertook an extensive tourist-resort building program. The number of beds in the mountain resorts was enlarged. New sea resorts and holiday camps were constructed. New modern spa treatment centers were built in the towns with mineral springs. The international hunting tourism is continually increasing. Tourism has become one of the most important trends of the Bulgarian economy.
RENOWNED SEA RESORTS:
Albena, Dyuni, Eleni, Nesebur,Rousalka, Slunchev Bryag (Sunny Beach), Varna, Zlatni Pyasatsi (Golden Sands).
RENOWNED MOUNTAIN RESORTS:
Bansko, Borovets, Pamporovo